It wasn't long before we started to receive emails asking if it could be used in the Naturebytes Wildlife Cam kit. With such a small form factor it opened our minds to new kit possibilities in terms of size, but without the CSI port you can't natively connect the Pi camera to it.
Sure – you could use a USB camera, but then you'd need to hack one in to replace the standard Pi camera that we ship with the kits. Power could also be an issue with a USB camera as you'd need to supply the new camera and you'll need to fit in that extra juice.
The specification looks like this:
A Broadcom BCM2835 application processor

1GHz ARM11 core (40% faster than Raspberry Pi 1)

512MB of LPDDR2 SDRAM
A micro-SD card slot
A mini-HDMI socket for 1080p60 video output
Micro-USB sockets for data and power
An unpopulated 40-pin GPIO header

Identical pinout to Model A+/B+/2B

An unpopulated composite video header
65mm x 30mm x 5mm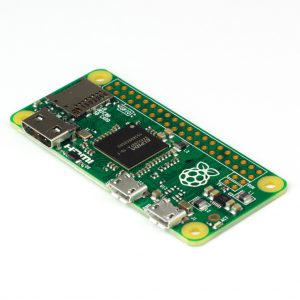 We're thinking that the A+ is still the firm winner for now when it comes to the Cam Kit, but we're very excited to discover what's possible with the Pi Zero when you start thinking about monitoring plants, watering them remotely, using the Zero with the Pi weather station etc… or monitoring wildlife in new exciting ways.
It's going to be a fun time for Raspberry Pi enthusiasts everywhere. Congrats to anyone who managed to buy one before they all sold out, or were the lucky owner of a MagPi this month.