Naturebytes is a community that creates and uses technology to re-connect people with wildlife in new and exciting ways.
The Naturebytes kits can be used by anybody to develop digital skills that enable you to see the natural world in ways that weren't possible before.
Why was Naturebytes created?
In recent years – nearly 60% of ALL wildlife has been lost. At the same time, four in five young people in the UK are 'disconnected' from Nature. Being disconnected means you don't have an appreciation or feel a sense of responsibility for wildlife.
When you're disconnected from nature, of course you don't care that it is disappearing. People continue to blame technology, too much time on screens, not enough outside.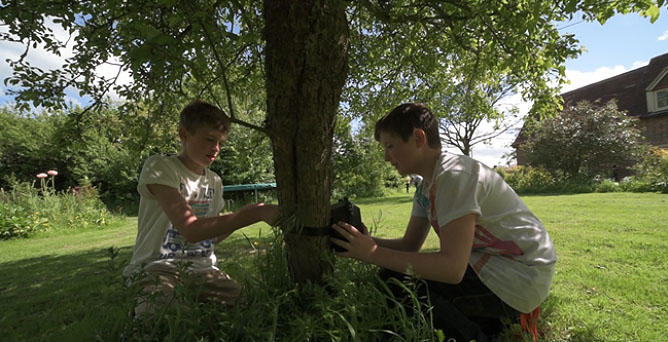 Naturebytes is building an engaged community of engineers, scientists, designers and enthusiasts all helping to create new ways to reconnect with wildlife.
The Naturebytes DIY Maker Kits
The Wildlife Cam Kit
The Naturebytes Wildlife Cam Kit is a motion sensitive, wildlife camera that anyone can build to remotely capture high definition photos and videos of wildlife. The kit is powered by the Raspberry Pi, a credit-card sized programmable computer, making it a fun way to develop your digital making skills and provide an exciting new insight into the natural world around you.
The Naturebytes NestBox
The NestBox uses similar technology to the Wildlife Cam Kit, enabling people to live stream, capture video, photos and monitor nesting birds in their garden. The users record their observations via the online portal, creating interesting content and providing valuable monitoring data.
This kit is being brought to live with our partners the Belgian Museum of Natural Sciences as part of a national educational project in Belgium. The project is reaching between 300-500 schools each year and up to 30,000 children a year for three years!
New activities and demos for Schools
We are developing an ecosystem of new accessible technologies that enable people to simply assemble and monitor their environments. One example of our new concepts is the Weather Station.  Created in collaboration with the Raspberry Pi Foundation, the Weather Station can be combined with the Cam Kit, enabling schools to simply collect images, real-time weather data and air-quality information.